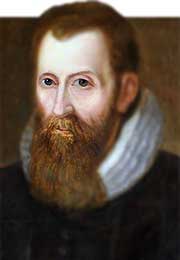 Foto por… Jose Torres
Nació en 1550 en Merchiston, cerca de Edimburgo.
Cursó estudios en la Universidad de San Andrés donde se convirtió en un ferviente seguidor del movimiento de la Reforma en Escocia.
Autor de la primera interpretación importante en Escocia de la Biblia.
Fue uno de los primeros, en usar la moderna notación decimalpara expresar fracciones decimales de una forma sistemática. También inventó sistemas mecánicos para realizar cálculos aritméticos, descritos en Rabdologiae seu numerationis per virgulas libri duo(1617).
Publicó Plaine Discovery of the Whole Revelation of St. John (1593).
John Napier falleció en Edimburgo el 4 de abril de 1617.